Disc Brake Emergency Caliper Assembly For Oil Rig
Disc Brake Emergency Caliper Assembly For Oil Rig
The Emergency caliper assembly adopt floating oil cylinder lever type normally closed pliers, and the oil cylinder has a built-in disc spring group.
The Emergency Caliper are often installed in the lower part of the Caliper frame to achieve parking brake and emergency braking. When the disc brake line is broken, or it is powered off and low voltage,The Emergency Caliper works.
When using:
Check the released brake clearance frequently (at least once a week),the thickness of the brake pads and sealing performance of the oil cylinder. If the clearance between the friction disc and the brake pad is >1mm,the braking clearance must be adjusted to about 0.5 mm. After application of emergency brake operation, the released brake clearance also should be checked. When the thickness of the brake pad is worn to only 12mm,the brake pad must replaced.
Cautions!
Adjust the braking clearance of the safty calipers in time,otherwise failure of emergency brake and parking brake may be caused.
Cautions!
To guarantee the reliability of the safety caliper,replace the disc spring group once every 12 months at least.
model:
PSZ75A-2-00
PSZ75B-2-00
BK-0-7A
BK-0-7B
BK-0-6C
BK-0-6D
BKD-0-6C
BKD-0-6D
DBS75-2-00
BQ-00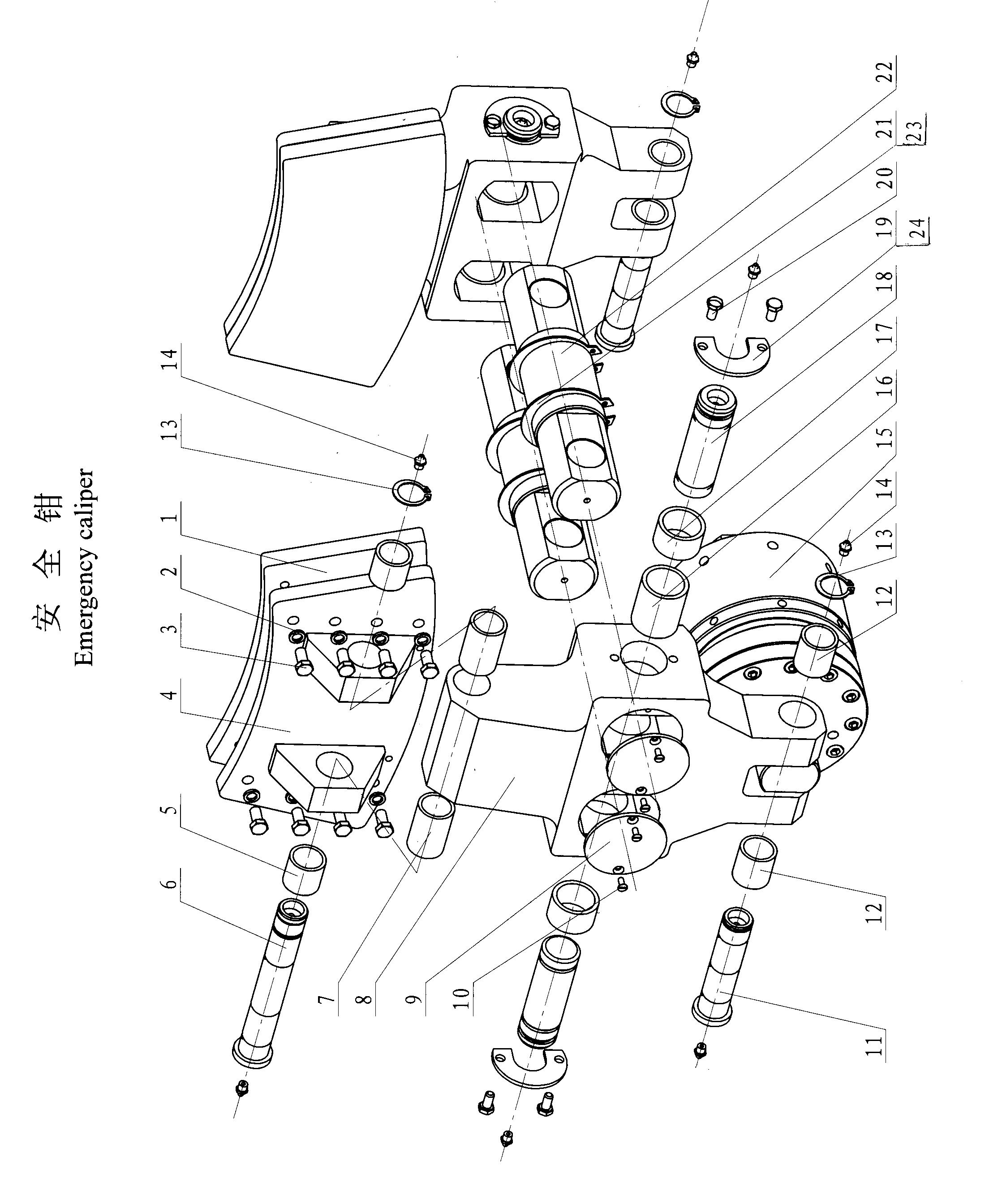 | | | | | | |
| --- | --- | --- | --- | --- | --- |
| Sn | Part № | Description | Q-ty | Weight | Remarks |
| ―― | PSZ75A-2-00 | Emergency caliper | | 220 | 0.11m3 |
| 1 | PSZ75A-2-01 | Brake pad | 2 | 5.8 | |
| 2 | GB93-87 | washer 12 | 16 | | |
| 3 | GB5782-86 | Hexagon head bolt M12×30 | 16 | | |
| 4 | PSZ75A-2-02.00 | Steel backing | 2 | 14.3 | |
| 5 | PSZ75A-2-14 | Sleeve | 4 | 0.15 | |
| 6 | PSZ75A-2-16 | Clevis pin with head | 2 | 1.7 | |
| 7 | PSZ75A-2-15 | Sleeve | 4 | 0.25 | |
| 8 | PSZ75A-2-03 | Lever | 2 | 44 | |
| 9 | PSZ75A-2-09 | Cover plate | 4 | 0.28 | |
| 10 | GB68-85 | Slotted countersunk head screw M6×15 | 8 | | |
| 11 | PSZ75A-2-08 | Clevis pin with head | 2 | 1.08 | |
| 12 | PSZ75A-2-07 | Sleeve | 4 | 0.17 | |
| 13 | GB894.2-86 | Circlip for shaft 35 | 4 | | |
| 14 | GB1152-79 | Grease cup M8×1 | 12 | | |
| 15 | PSZ75A-2-6.0 | Emergency caliper cylinder assembly | 1 | 49 | 0.02 m3 |
| 16 | PSZ75A-2-10 | Sleeve | 2 | 0.39 | |
| 17 | PSZ75A-2-13 | Sleeve | 4 | 0.17 | |
| 18 | PSZ75A-2-11 | Clevis pin | 4 | 1.69 | |
| 19 | PSZ75A-2-12 | Semicircle retaining ring | 4 | 0.11 | |
| 20 | GB5782-86 | Hexagon head bolt M10×20 | 8 | | |
| 21 | GB894.2-86 | Circlip for shaft 85 | 4 | | |
| 22 | PSZ75A-2-04 | Support arm | 2 | 11.9 | |
| 23 | PSZ75A-2-05 | baffle plate | 4 | 0.32 | |
| 24 | GB93-87 | washer 10 | 8 | | |